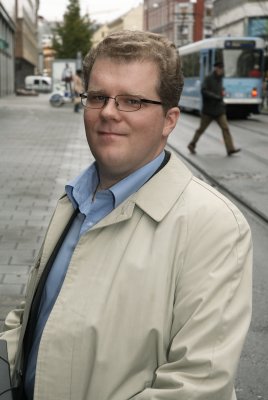 Håvard Svendsrud
, accordion
Born: 1974-01-29, Modum in Buskerud, Norway
Håvard Svendsrud is educated in music at Barratt Dues Institute of Music in Oslo with the accordion as main instrument. He lives in Oslo, and he is a professional freelance musician with both classical and traditional music on his repertoire. He won several of the categories in the Norwegian Accordion Championship in 1992, 1993 and 1994. He also won the Nordic final of Frosini Grand Prix in 1993.
He is a sought after artist and performs frequently in radio and television, as a soloist and as a "working musician". Norwegian Broadcasting, NRK P2, broadcasted in 2004 one of his classical solo concerts in Oslo. He has contributed to, and released several recordings.
He was one of the engaged artists at Oslo city's 1000-year jubilee, giving a separate concert August 12th, 2000. He has on several occasions been a soloist with different orchestras, among them the Stavanger Symphony Orchestra and The Norwegian Army Band. He has also been a musician in theatres, among them Nationaltheatret in Oslo, and he has contributed to performances such as Fiddler on the roof and The Threepenny opera.
Håvard Svendsrud was appointed "cultural ambassador" for the Norwegian Foreign Ministry, involving a long-term commitment in Venezuela in 1995. He has also toured with his own concert programme in the USA, Iceland, Finland, The Czech Republic, Italy, England and in the whole of Scandinavia. Some of his concert has been supported by Fund for performing artists, Arts Council Norway and Music Information Centre Norway / Ministry of Foreign Affairs.
Håvard Svendsrud has obtained several prices for his playing, among them Belgprisen (1992), Ticon-prisen (2000) and Henschiens ærespris ( 2002 ). Buskerud County Culture Price (2006). He won in 2004 the first "Vivian Vivo Stolaruk Memorial International Entertainment Competition for Accordionists" in Boston, USA. In 2006 he received third place in the same competition in Buffalo / Niagara Falls, USA.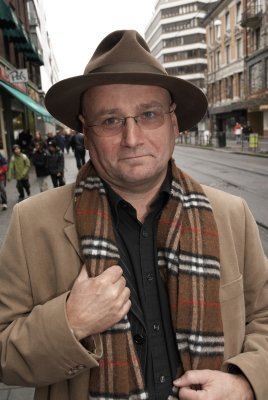 Kay Werner Hartvigsen
, double bass
Born: 1956-06-18, Kristiansand, Norway
Music education from the Norwegian Academy of Music in Oslo instructed by professor Knut Guettler. Hartvigsen also had lessons instructed by Niels - Henning Ørsted Pedersen. Finale music examination 1979.
Hartvigsen lives in Oslo. He has worked with several of the professional symphony orchestras in Norway, for instance in 1979 when he was substitute with the Oslo Philharmonic Orchestra. Hartvigsen was member of the "Norwegian National Double Bass Quartet" in the 1980's. This ensemble had tremendous success with numerous school concert tours for, "National Concert Tours" Rikskonsertene.
Kay Hartvigsen has been active as theatre musician with several of the Norwegian theatres, and has been musician with "The National Touring Theatre", Riksteatret, since 1984 resulting a number of long - and short- term tours all over Norway. These last years with theatrical performances as "Dyrene i Hakkebakkeskogen", "West Side Story", "Fyrtøyet" and "Skjønnhetsdronninga", to mention a few.
In jazz styles he has collaborated with for instance Bjarne Nerem, Rovland Greenberg and Laila Dalseth.